Soldier 4-side Character Animation [PIXEL] [SPRITES]
A downloadable asset pack
Hand Drawn Soldier
Animations included - Run, Idle, Attack, Hurt, Death,
Good for 4 angles - Flip images to get the left facing sides
36 hand drawn images 251x200. Comes with PSD file and these GIF images
Want to see what they look like in action? Check out the little game I made with them: https://combosmooth.itch.io/arena-knight

You can find more sprites and even some games I've made here: https://combosmooth.itch.io/

You can use these assets for commercial or personal use. You do not have to credit me, but it would be nice
do NOT resell these sprites.
Purchase
In order to download this asset pack you must purchase it at or above the minimum price of $1.50 USD. You will get access to the following files:
Comments
Log in with itch.io to leave a comment.
Hi! I made a quick icon for that character:
Have I botched the supposed concept?

Looks good man. The character was never so detailed in any of my concepts so it's cool to see a more realistic type render.
I've notice you bought a couple of my things. Using them on a current project?
Yeah. I'm working on a Final Fantasy Tactics type game, and your characters are in suitable style, with large areas for player team colors and all required animations. I still edit them a bit, lowering gamma: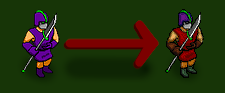 Ooo nice. Looks like you added some extra wrinkles in the clothes too. I was working on another snake type character, but it will probably be awhile until I finish his animations since I'm working on other projects.

The concept is he spits acid and uses his strechy neck to attack. I followed you, so hopefully I see some progress on your game. If you need testers or anything feel free to ask me as well. I can be brutally honest :P
Cool character! I could use some snake magician in future. I had a preview alpha, but removed it for now, since it doesn't reflect the current progress. Basically there are cities, where player can build structures excluding each other (think Disciples or Heroes of Might & Magic 4 ), and player's selection determines what creatures that city will attract. So I can add unlimited number of different characters.